Design, Program, Connect
Drive visuals with data. Program constraints, conditional visibility, looping. Configure visual elements with exactness.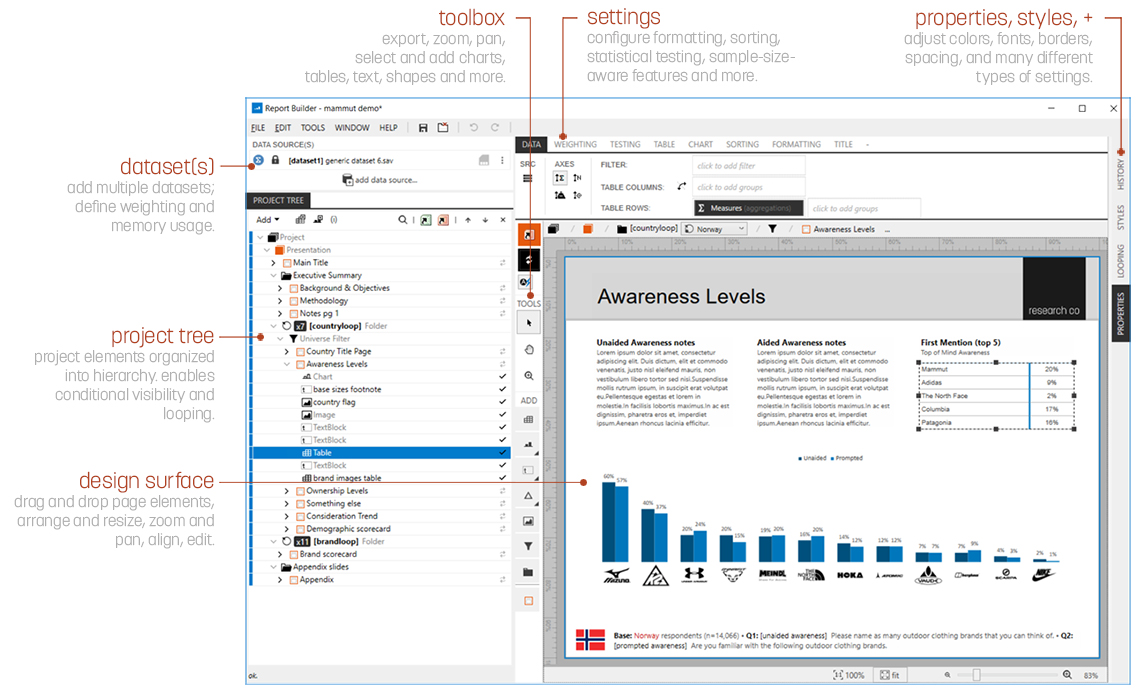 ---
Organize Project
Categorize, arrange, maintain, navigate, collapse, search.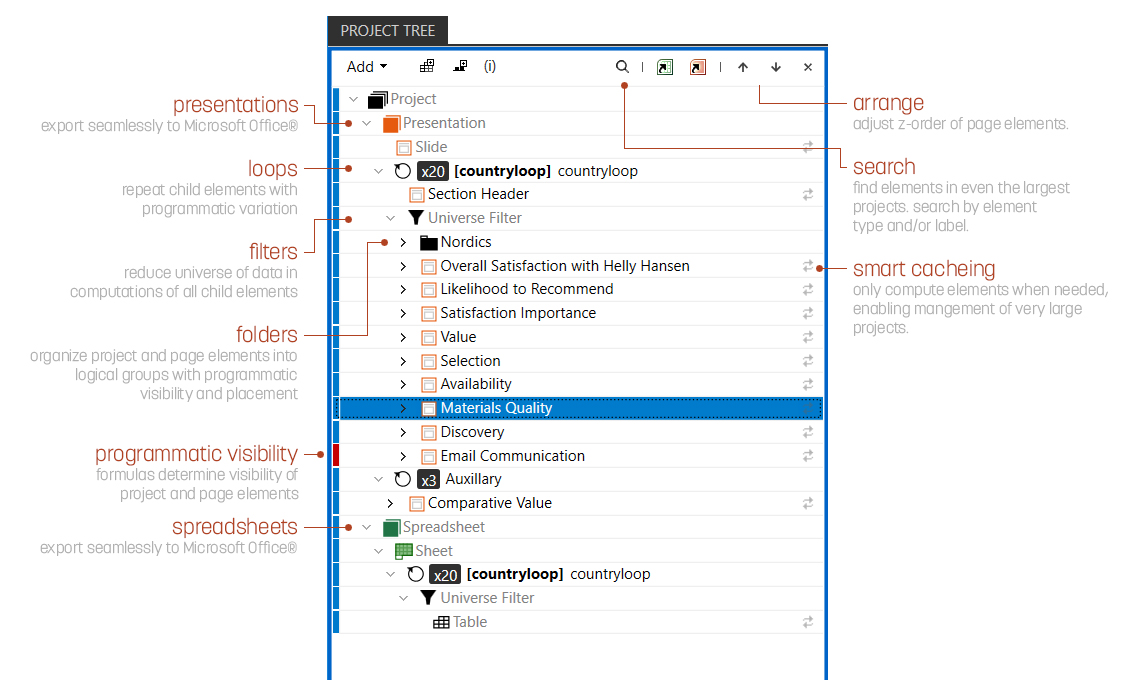 ---
Create Infographics
Add data-driven items to design surface.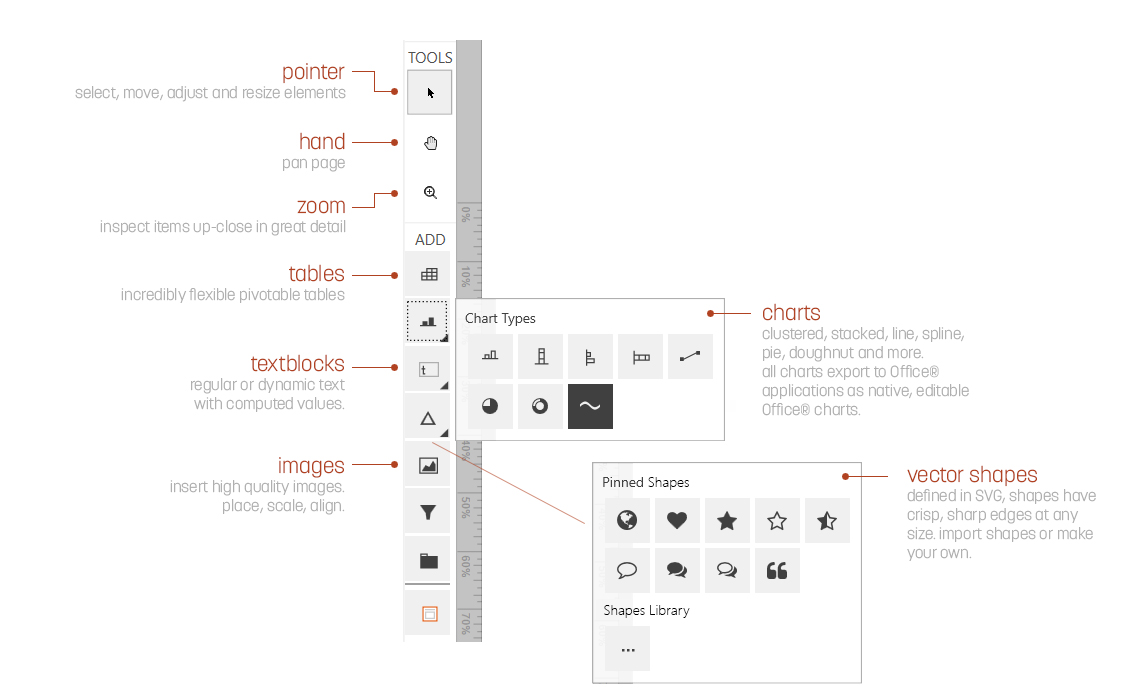 ---
Design with Precision
Position, align and precisely configure.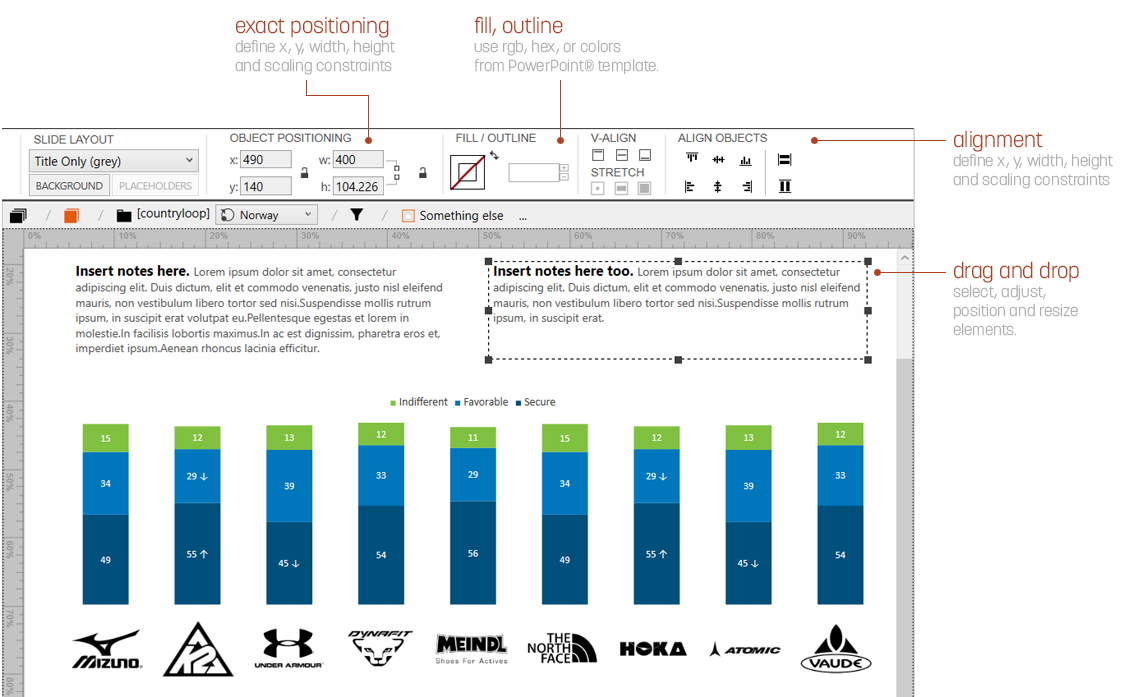 ---
Features Include
Office Integration
Office-native editable charts
Office-native vector-based tables
Powerpoint templates & placholders
Dynamic slide headers and footnotes
Excel page breaks and print margins
Hyperlinked table of contents
Statistical Testing
Independent z-tests, t-tests, & more.
Benchmarking
Trend testing
Testing in charts
Custom indicators: markers & symbols
Testing in tables
Graphical Components
Dynamic, computed text
Customizable text markup
Infographics
Shapes
Background colors, images
Editing
Rulers
Alignment buttons
Precise positioning
Snapping to guides and gridlines
Multi-edit for all objects
Searchable project tree
Working with Data
Rollups
Re-basing (without creating new vars)
Macros (repeat common rollups, etc.)
Custom syntax
Limiting (show top n sorted items)
Pin items when sorting
Cell hover to show sample size, etc.
Hover to view stat test formula details
Option-order multi-response
Mention-order multi-response
Scale matrix features
Net Promoter Score
Robust Weighting
Low sample size indication
Working with Labels
Templates for dynamic labels
Keywords (e.g., [var] [syntax] [value])
Awesome label trimming rules
Auto-trimming
Single, consolidated or multi-edit
N-sizes in labels e.g., (n=1,345)
Looping
Loop a single slide
Loop a group of slides
Loop any object
Nested looping
Instance-specific rules
---
For more information, check out these videos and articles.